Hear reflections from our CEO, Laura Brown's recent visit to Uganda
The past two years have been tough, and Covid-19 altered the world in many ways. Schools and students were one of the most affected by the pandemic. Schools had to close, and, in many cases, education came to a grinding halt, especially in the Global South. Though we are past the worst and the post-Covid era is upon us, the damage left by the pandemic is looming large.
These aftershocks are being felt across schools in Uganda – low morale among students and teachers because of schools being closed for a prolonged period, rising food costs and inflation are just a few of the issues I witnessed during a recent visit there.
Apart from these issues, our organisation has been doing exemplary work in Uganda. What I saw while I was there was high-quality student work, and staff working hard to roll out the new curriculum. The highlight of my trip was the science projects and beautiful artwork at PEAS Aspire High School, confident student leadership at PEAS Frontiers, mushroom farming at PEAS Hibiscus and musical talent at PEAS Noble.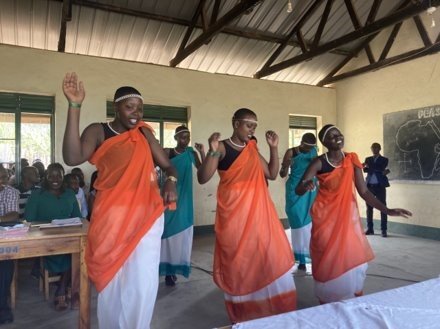 Strengthening our ties
We believe in strengthening education across all schools in the countries we work in. Through our systems strengthening work, we are working with governments to support more students. In what was my first visit to one of our Inspect & Improve government partner schools, it was great to see the impact of our work first-hand.
It was good to see the government school leader very enthusiastic about the improvements in child protection standards, teacher practice and use of data in the school since the start of the programme. Dr Turyagyenda, the Director of Education Standards, who I met in the capital city of Kampala was very passionate about the programme. She has an ambitious vision for the future of our partnership. Likewise, our partners at FCDO-Uganda continue to be impressed by our work to the extent that our FCDO Programme Officer is sending a child to the PEAS Ngora High School!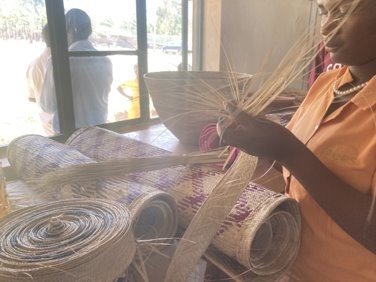 Our purpose  
The last time I was in Uganda I met a Senior 4 student at PEAS Kithoma High School called Ida and her two young children. She was speaking with community members, stressing the importance of girls' education. She explained that her husband was taking responsibility for childcare so that she could board in her final year and concentrate on her exams. Returning to Uganda last month I was delighted to discover that Ida passed her S4 exams and has received a scholarship via PEAS to pursue her dream of training as a nurse.
She has also taken up the mantle of girls' education in her community. When I asked her how she was managing it all, she said with a twinkle in her eye, "my husband takes care of the children while I concentrate on my studies and prepare for my boards."
Stories like Ida's are not uncommon in our network. With the current pressure on schools, our work in PEAS schools and beyond has never been more important.