This article is by Daniel Omaya who is currently Education Quality Manager at PEAS Uganda, after transitioning from the role of Education Specialist – Continuous Professional Development, in the same organisation. He is an educationist, with varied technical skills in Teacher Continuous Professional Development, Education Management, Planning and Administration; with the secondary school sector.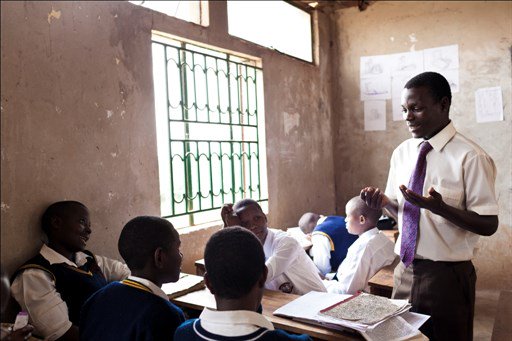 PEAS currently runs a network of twenty-eight low-cost, not-for-profit secondary schools in Uganda. With this growing network, PEAS endeavors to continuously deliver high quality education, at low cost. In the sub-Saharan context, PEAS' definition of quality education is rooted in the relevance the education provides. As such, education is supposed to "help young people define and lead fulfilling and socially responsible lives". When learners are equipped to be successful after they leave school, then education can be termed as relevant.
We believe that our teachers and leaders are the spark for change. With this belief, PEAS strives to empower teachers and leaders so that they can lead learning in their schools. Instructional leadership approaches, where leaders focus on the quality of classroom instruction and create a culture of learning in schools, put schools in the driving seat for improving teaching quality and student learning outcomes. It therefore has the potential to be a sustainable and cost-effective approach because it creates a system for improvement in schools, rather than relying on external input or an isolated change. Funding from the Swedish Postcode Foundation has helped PEAS to recognize and institute instructional leadership in each of our schools. Instructional leadership was instituted to improve and sustain effective teacher practice since effective student learning and achievement can be hampered by weaknesses in the teachers' pedagogical skills and classroom practices.
Instructional leaders have contributed a lot more towards improving student learning by promoting a shared vision and accepting group goals. Our teachers progressively develop through targeted individual support[1] and intellectual stimulation[2]. The PEAS model of instruction is aimed at achieving the organisation's vision: A world where all children enjoy and education that unlocks their full potential.
At PEAS, the Instructional Leadership Team in a school consists of the Head-Teacher, Head of Studies and Champion Teacher[3]. These three have the collective responsibility of ensuring the each teacher receives mentorship and support, through continuous lesson observations and feedback. The three instructional leaders are supported by the Education Specialist – Continuous Professional Development from PEAS' regional teams. Across the network of 28 secondary schools, we have 84 instructional leaders.
Illustration of Instructional Leadership Model in a PEAS School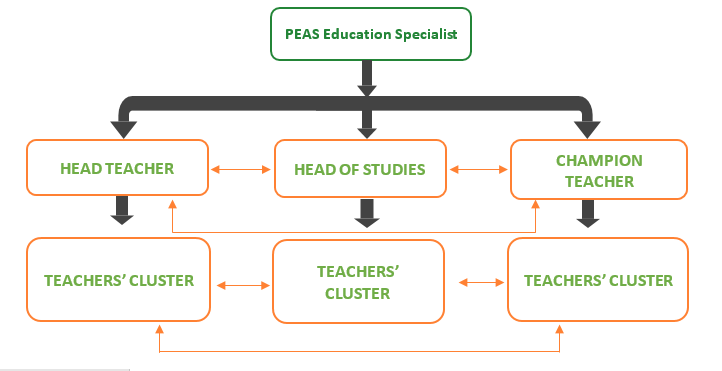 Impact of Swedish Postcode Foundation Funding:
The Swedish Postcode Foundation funding has greatly improved on continuous support to individual teachers at school level. Instructional Leadership continues to greatly improve on teacher support and oversight due to the following:
Training
The funding contributed towards training of and professional support to instructional leaders, so as to improve on their competencies in offering targeted support to individual teachers. The focus of the training was on understanding and practising the lesson observation five-step feedback model, as advanced in Leverage Leadership. It also focused on aligning teacher support to our set standards – the PEAS Great Teacher Rubric. This ways, instructional leaders are improving on the quality of their feedback to teachers after lesson observations.
Conversational and Supportive Nature
Considering the five-step feedback process, instructional leaders and teachers find continuous support very conversational. Teachers find the relationship between them and instructional leaders to be cordial. None of the teachers indicated that they felt intimidated or confronted by instructional leaders. Instead, they felt well supported by instructional leaders since they could demonstrate to or discuss with the teachers, how to improve their classroom practice.
Gradual and Impactful Change
Although initially instructional leaders felt limited by the feedback model, in which they had to identify one action step that would have the greatest impact on learning outcomes, they eventually appreciated it. Both teachers and instructional leaders indicated that it was much easier to implement and follow-up on one action step, respectively! Through regular lesson observations, instructional leaders indicated that they continuously observed gradual impactful change in the teachers' pedagogical practices.
Improved Reflective Practice
Teachers felt that the post lesson discussions were open to general pedagogical practices, and agreed that the discussions drew them back to lesson delivered. This often improved on their reflections of what they did in the lesson and supported them in thinking ahead on how be better.
Opportunity to Share Best Practice
Since each instructional leader has a range of teachers under their cluster, they indicated that they were able to identify variances in teacher practices and competences. As a result, what would be one teachers' action step, would actually be another one's strong area of praise. This meant that instructional leaders had the opportunity to engage teachers in peer lesson observations so that best practice is shared and exploited. Besides, the model brings the instructional leaders together and they co-observe and provide feedback – an opportunity for continuous professional development for each of the instructional leaders as well.
[1] This is done through individual lesson observation and feedback. Different teachers require different levels of support.
[2] Intellectual stimulation is achieved through reflective dialogue during feedback following a lesson observation
[3] Champion Teacher in PEAS Context refers to an expert and exemplary teacher – in different literatures referred to as teacher leader.