By Snowden Nkhoma, Construction Manager, PEAS Zambia
PEAS is currently piloting a series of innovative climate-friendly construction projects across its schools in Zambia.
Our climate approach aims to help our communities adapt and mitigate their impact. From our pilot climate-friendly projects so far, there's been an interest from those who have visited our schools. After we evaluate the effectiveness of our new projects, I hope in the future we can help others to learn from us.
Constructing a biodigester at Kampinda Secondary School
We recently constructed a biodigester at Kampinda Secondary School in Zambia, to help the school reduce its dependency on non-renewable fuel for cooking.
The biodigester is a standalone system that transforms sanitary waste into cooking gas for the kitchen. The unit produces Biogas, a smokeless blue flamed gas like LPG or natural gas that is around 60% methane. The biodigester biologically digests organic material and creates a gas that can be used for breakfast, lunch, and dinner for PEAS students.
The biodigester is important because it will help us use less firewood and create cost savings to make the school budget go further. Using less firewood also reduces the impact on environmental degradation and climate change, as there will be a smaller carbon footprint and less deforestation taking place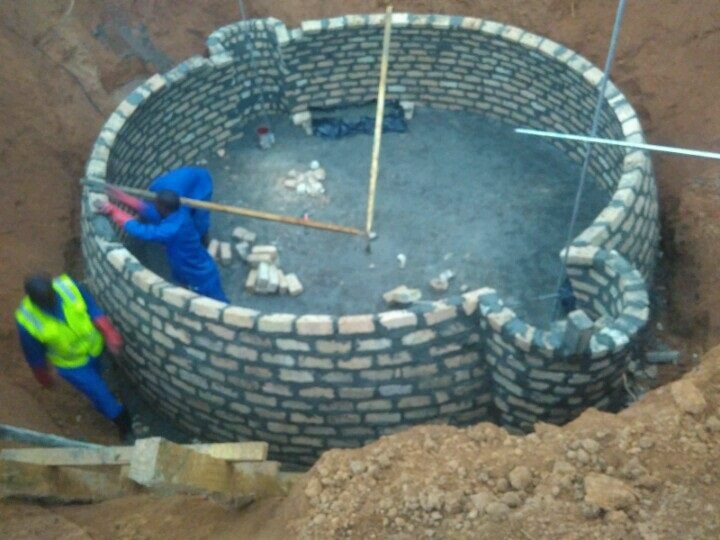 Solar water pumps at Kafula Musungu and Kawama Secondary Schools
We installed solar-powered water pumps at Kafula Musungu and Kawama Secondary Schools to enhance the supply of water at the two schools, as well as to promote clean energy.
Solar energy saves both energy and money and it is helpful for the schools' operational efficiency and sustainability.
Sickbay at Kabuta Secondary School using interlocking stabilised earth bricks
We are currently constructing a sick bay using stabilised earth bricks at Kabuta Secondary School. The method of building with interlocking compressed stabilised earth bricks is more environmentally sustainable and lasts longer than traditional fired earth bricks or concrete blocks.
Interlocking bricks are made by mixing and compressing soil, sand, and 10% cement in a manual machine. The bricks are stacked and cured (watered) for 21 days and no burning or fuel is needed. Production is made locally in the village near the school, reducing transportation, and creating jobs and development in the village.
This practice helps minimise the cost and impact of transportation. It also considers environmental costs and tries to limit the use of high-energy materials such as metal and cement.
What will we do next?
We will continue to adapt school infrastructure to respond to and mitigate the impact of region-specific climate-related disasters and carry out careful planning to ensure learning spaces are oriented correctly to minimise heat and ensure effective ventilation and air circulation.
With every construction project, we will work with construction contractors to ensure we maximise the space dedicated to trees and ensure trees are planted with every new build.